5 of the Best Movies to Watch With Herbalize Store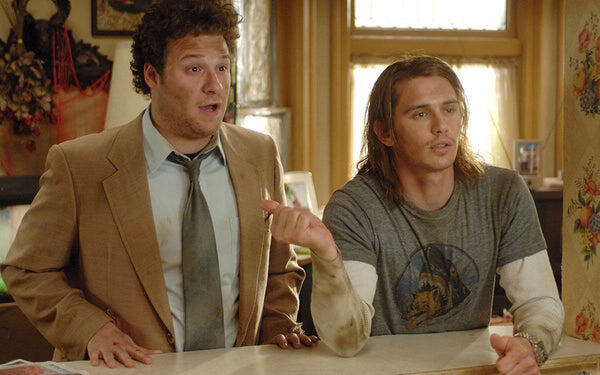 ---
5 of the Best Movies to Watch While High
There is nothing better than enjoying a well-made movie when high. Gathering your favorite snacks, getting comfortable on the sofa and watching a movie… is there anything better? Out of the thousands of movies out there, we have watched, sorted and chosen  5 movies to create a special list of stoner favorites that will have you laughing and enjoying your high like never before.
---
1 - Pineapple Express
If you like enjoying a nice laugh and are a fan of 'stoner comedies', then Pineapple express is the movie for you. In a hilarious, action-packed adventure between a stoner (Seth Rogen) and his dealer (James Franco), you will find yourself being completely sucked into the plot, and simply loving what this comedy film has to offer. With this iconic duo, you will embark on an escapade where they fearfully flee from a riotous hitman and a corrupt cop after accidentally witnessing a murder…
---
2 - The Big Lebowski
Looking for one of the most classic stoner movies of all time? Well, get comfy and turn on The Big Lebowski. You will be more than satisfied. Although The Big Lebowski is categorized as a crime comedy, there is a lot more laughing and enjoying than there is suspense in this movie. With the incredible Jeff Bridges playing "The Dude" Lebowski who is mistaken for a millionaire of the same name, things get crazy in this memorable, classic film. As a result from his mistaken identity, The Dude finds himself being assaulted, and sucked in to unexpected circumstances. Turning into a mystery as the plot develops, it's up to The Dude to save the day.
---
3 - Anchorman
If you're a fan of Will Ferrel, Anchorman: The Legend of Ron Burgundy is perfect for your Netflix and high moment. This American Comedy was made to have watchers dying of laughter on each scene, making it the perfect film for your next couch session. In this slightly controversial film, Ron Burgundy (Will Ferrell) welcomes reporter Veronica Corningstone (Christina Applegate) into a male-dominated 1970s world of broadcast news. However, unexpectedly, Veronica begins to outshine Burgundy on air. This becomes a rib-tickling war between the two characters, leaving watchers not knowing which side to root for...
---
4 - Samsara
When compared to the other movies on our list, Samsara is in a whole other category.
Instead of being a hilarious comedy, Samsara is a non-narrative documentary film that will leave you breathless.
This global travelogue film was shot over a period of 5 years to create an awe-inspiring collection of exploration through the American Southwest,
the Himalayas, European Cathedrals, and other gorgeous sites. With the magic that filmmaker Ron Fricke was able to create in this amazing film, your high will be taken to a completely new level.
---
5 - Before the Flood
For a more eye-opening, facts-packed movie choice, we have the incredible film — Before the Flood. In this must-watch, inspiring documentary featuring and narrated by Leonardo DiCaprio, the captivating scenes will leave you wanting to make more of a positive impact. Touching subjects of climate change and the possible solutions we have available to us, Before the Flood, should be on everyone's must-watch list. With Leonardo DiCaprio and a handful of scientists, activists, and world leaders, this documentary will take you on a journey that will completely change the way you look at our earth. Now that we have shared with you 5 of our favorite movies to watch while high, including a few that will have you crying tears of joy and wide-eyed from their beautiful scenes, it's time for you to share your favorites! We love movies like nothing else (especially when we're high!). Don't hesitate to share with us your favorite hidden gems, so we too can enjoy what they have to show…
---
---