Boundless CFX Plus Review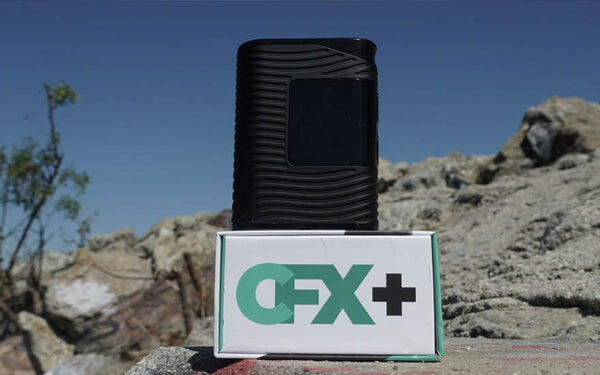 Boundless CFX Plus Review
The Boundless CFX Plus is the newest and most advanced member of the Boundless CFX family. Boasting a slew of new features and upgrades, it's sure to set the standard for entry-level portable dry herb vapes. Among its improvements are an increased heating power, a redesigned airflow system that provides an even more satisfying hit, and a bigger and better battery that lasts longer than the original CFX. Plus, it still retains all the features that made the original CFX so popular, like instantaneous heat-up time and precise temperature control.
CFX+ Design
Smaller and more rugged than the original, this vape is perfect for on-the-go use. It features a new plastic exterior with grooved sides for a better grip, making it easy to hold and fit in your pocket.
Enjoy even cooler vapor with the new magnetic mouthpiece with zirconia cooling airpath!
Temperatures
The Boundless CFX Plus temperature range from 38 – 220°C / 100 – 428°F, is the perfect vaporizer for those who want to enjoy a smooth, hassle-free experience. With its preset temperatures and individual degree customization, the CFX Plus gives you complete temperature control over your vaping experience.
CFX Plus Battery
The CFX Plus features an upgraded battery that provides up to 30% more power than the original CFX and features USB-C charging. Sadly the battery of the CFX+ is internal and not replaceable. However, it does charge fully in less than one hour!
Vapour Quality
There's nothing quite like a Boundless CFX Plus. This premium vaporizer packs a serious punch, delivering bigger clouds and cooler vapor than ever before. Thanks to its upgraded zirconia mouthpiece insert and increased air flow through the chamber, the CFX+ is in a class of its own when it comes to flavor and performance.
What material can you vape with the CFX Plus?

It's the future, and that means that vaping technology has advanced to new heights. The Boundless CFX Plus is a dry herb only vape that features all of the latest bells and whistles.
Checkout: - The 13 Best Wax Vaporizers
How to use CFX Plus vaporizer?
The magnetic mouthpiece lid makes loading and cleaning a breeze, and the funnel design prevents any debris from getting stuck.
To power the CFX+ on and off, simply press and hold the up and down buttons for three seconds. The CFX+ will vibrate once powered on and automatically heat up to your last temprateure setting.
You can also click the single arrow button to scroll through the different options on the main screen, which include start, stop, timer, and settings. The start button will start a session, the stop button will end a session, the timer button will let you set how long you want your session to be, and the settings
 When you press both temperature buttons at the same time will give you access to the menu including changing Celsius to Fahrenheit, two to eight minute session timers, screen brightness, set four pre-set temperatures, or operate in precision mode (single degree increments)
When you're in the menu, you can click both the up and down arrows to go into a setting option, and then click the up and down arrows to set your option
   To leave the menu, click both the up and down arrow on start text
How to clean CFX Plus?
Cleaning depends on your consumption and usage, but I've found cleaning it once a week has kept my device in top condition. This is the method I use:
Disassemble. Pop the magnetic mouthpiece and disassemble the parts
Soak. Soak these parts in isopropyl alcohol, cleaning them from particulate.
Clean everything else. I use a cotton swab soaked in isopropyl alcohol to reach all the other annoying spots like the oven in which particulate tends to build up in over time.
Dry / Rinse and Assemble. Wipe everything off and reassemble, ready to use.
How long is the CFX+ warranty?
We know that when you buy a Boundless CFX Plus, you're making a commitment to quality. That's why Boundless Technologies offer a 3-year manufacturer warranty, and a 90-day warranty on the battery.
Accessories
If you're looking to have the best experience Boundless can offer, then consider having a look at some Boundless CFX Plus future accessories:
Water pipe adapter ( coming soon )
CFX+ Pros and Cons
This vape packs a power punch, looks solid and does everything you could want from a modern dry herb vaporizer.
Pros ✅

Sleek, stylish new design which fits in your pocket.
New pick tool
Magnetic Mouthpiece with zirconia cooling airpath
Upgraded UI and Screen
Dense, clean and flavourful vapour
Lower price point
Cons 🚫
Non replaceable battery
Smaller but still a bit big compared to other portable vaporizers.
No dosage pod for concentrate vaping.
Final Words
The CFX Plus is the latest vaporizer from Boundless, and it's clear they've built it with innovation in mind. The zirconia cooling air path and non-combustion heating technology make for a smooth vaping experience, while the upgraded interface and functionality represent the evolution of vaporizers. Whether you're a first-time user or a seasoned pro, the CFX Plus is sure to provide a great vaping experience.
---