The Best Cheap Desktop Vaporizers 2023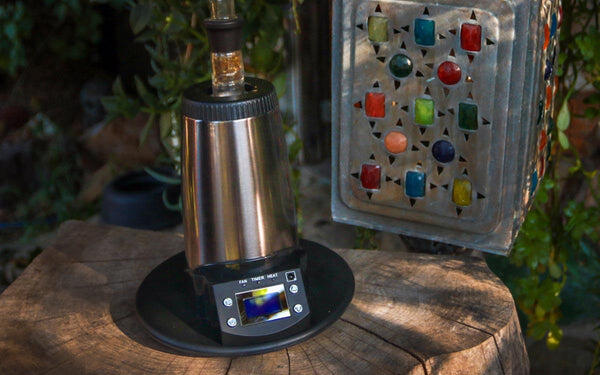 In today's vape market, portable vaporizers have become increasingly popular, and a wide variety of the vape community prefer small-sized, portable and discreet vaporizers; however, desktop vaporizer still hold a place in many of our hearts. These powerful, impressive vaporizers, are designed to offer an experience that is nothing like that of a small-sized unit. Desktop vaporizers are a dream come true for big vape cloud lovers, for they always offer an impressive amount of vapor, and always satisfy the needs of the heaviest vape lovers.  
Checkout: - The 12 Best and safe Dry Herb Vaporizers
I am sure that to this day, there are still some of us in the vape community that prefer an experience that only a high-quality desktop vaporizer can offer. The thing is, is that many of us will immediately go for portable vaporizer, due to the fact that they are much cheaper and promise to offer a similar experience. However, in today's vape market, there is an endless amount of options to choose from, when it comes to high quality, cheap desktop vaporizers; and I believe that you will feel the same excitement that I did, when I stumbled upon these units that would make my dreams come true, without emptying my wallet.
Budget Vaporizers: Pros & Cons
In this article, I will be sharing with you some of my favorite desktop vaporizers that have left me not only impressed, but also feeling satisfied with the prices they're set at when compared to the functionality they offer. As a desktop lover myself, I was able to enjoy the process of finding these vaporizers, and look forward to recommending these to the rest of the desktop vape lover community. I'm confident that the end of this blog, you will be able to find at least one vaporizer that will blow your mind away, and that will be the exact unit you have been searching for.
Arizer – V Tower
On this list of the best cheap desktop vaporizers in 2022, our first unit is the well-known Arizer V Tower. This dry herb desktop vaporizer, manufactured by Arizer, took the community by storm with its impressive heat up time, it's fancy build, and it's high tech heating capacities. Made to satisfy the needs of even the pickiest dry herb vape lovers, this high-quality, cheap desktop vaporizer, was a unit that we simply could not forget about on our list. The V Tower's popularity and cheap price is not the only thing that allowed us to add to this list however.
One of the things that makes the V Tower incredible, is its impressive 2 minute heat up time. Thanks to its super smart triple heat sensors and precise temperature control, this desktop vaporizer is able to offer the highest quality of vapor, in record time. When compared to other desktop vaporizers on the market that are even set at higher prices than this unit, the Tower V really takes the spotlight, and allows it to be a recommendable unit. If you like a vaporizer that offers smooth and quick functionality, this unit is definitely for you.
The Arizer V Tower is thought to be one of the most effective "Whip-Style" vaporizers on the market, for even though it is smaller-sized, and it might not look too impressive, it is able to offer the highest quality of dry herb vapor, an offers users years of flawless functionality. Due to the fact that it is made from the highest quality of food grade materials, users are able to experience a safe, and enjoyable vape experience, in the comfort of their own home. Thanks to all these amazing qualities, and the super affordable price that the Arizer V Tower is set at, there's no doubt that it is one of the best options on the market today.
Arizer – Extreme Q
When it comes to cheap, versatile desktop vaporizers, the Arizer Extreme Q takes the prize. This impressive vaporizer has become popular in the vape community, thanks to its endless uses, including being used as an aromatherapy diffuser, deodorizer, and the ability to be used with both a balloon system or whip system. With all these impressive, versatile uses, users do not have to stick to the same functions everyday, and can enjoy a wide variety of new vape experiences.
Although the versatility of the Arizer Extreme Q is something that makes it stand out from other vaporizers on the market, the quality of vapor it offers is also more than impressive.  It's build boasts high-quality materials, including steel walls and a glass whip system that does a great job at efficiently cooling and perfecting the vapor before it ever touches your lips. This high-tech desktop vaporizer also has a 3-speed fan, that basically helps and assists the user in drawing huge clouds of vapor. Thanks to its smart build, and the high-quality materials it boasts, the Arizer Extreme XQ2 is able to offer some of the most delicious vapor on the market.
The Arizer Extreme Q has another trick up its sleeve; it is the first vaporizer on the market that can be used with a remote control. Although this might seem like an unimportant feature, once you use it, you will fall in love with the ease-of-use that it offers. Thanks to this awesome extra feature, the incredible quality of vapor it produces, the enjoyable versatility, and the amazing price that it is set at, the Arizer Extreme Q is a unit that we simply could not forget on our list of cheap desktop vaporizers.
Dr. Dabber Boost Black Edition
Are you a wax dabbing lover, and are looking for a desktop unit that will offer you the delicious vapor you deserve? The Dr. Dabber Boost EVO was designed for you! Not only are desktop dab units hard-to-find on the market, when they are, they're not exactly high quality. This is why this unit had the attention of the entire vape community when it came out, and finally was like a dream come true for dab lovers. This high-tech desktop vaporizer is definitely a peek into the future, and a dream come true for all of us who enjoy dabbing at home.
The Dr. Dabber Boost Black Edition is nothing like other dab rigs on the market, for it does not have wicks or coils, and utilizes a nail to efficiently heat the solid wax concentrates, and offer some of the smoothest, and best tasting vapor. With this awesome desktop dab rig, you can finally enjoy dabs, without fearing dangerous flame guns, or super hot surfaces at all times. The Dr. Dabber Boost will offer you some of the best tasting vapor, thanks to its impressive temperatures, it's high-quality nail, and the quality of materials used in its build.
Apart from the high quality vapor that it offers, this unit also boast an impressive battery that offer 60 big dab hits. Although it is considered a desktop vaporizer, this unit can actually be taken on the go too, for it is not too big to be enjoyed in out of the house activities. It also boasts high-tech controls and settings, that can be used easily by both Vape beginners and vape OG's alike. Due to the fact that this unit offers some of the best tasting dab hits on the market, I would not only recommend it to desktop lovers, but also dab rig lovers! It offers quality that is worth boasting about, and even though it's amazing, it is set at a cheap and affordable price. Can it get any better than that?
Plenty Vaporizer
The Plenty Vaporizer, manufactured by the well-known Storz and Bickel, is one of the most popular vaporizers in today's vape community; this unit is actually not the first vaporizer manufactured by Storz and Bickel that has become so popular, and I believe that this is due to the fact that Storz and Bickel offers quality like no other. It is easy to see when using one of their vaporizers, that they take the smallest details into consideration when designing their units, and thanks to this, the results are close to perfection. The Plenty is one of their most popular units, and definitely one of my favorites.
One of the things that makes the Planty one of my favorite vaporizers, and probably others too, is the fact that it offers a versatile vape experience. Designed to be used with both dry herb and concentrates, it is able to offer the highest quality of vapor, in both functions. Thanks to its double helix, it also offers impressive airflow, and cools the vapor before it ever touches your lips; always ensuring the best taste, and the best results from your materials. Thanks to its precise temperature control, it efficiently vaporizes both type of materials, and always allows you to get the best from your favorite herbs and concentrates.
Another thing that has made the Plenty so popular in the vape community, are the clouds of vapor that it offers. This unit is definitely a dream come true for 'hardcore' vape lovers, for it always offers impressive amounts of vapor, in record time. I am truly happy to be able to add this incredible vaporizer to our list of cheap desktop vaporizers, for with the quality that this unit offers, it is more than impressive to be able to call it cheap. If big clouds of delicious tasting vapor, and smooth high-tech functionality is what you've been looking for in a vaporizer, the Plenty is definitely for you.
Get Quality vapor for a Cheap Price
Although all vape lovers appreciate quality in the vaporizers they use on a daily basis, many units on today's market are placed at mind-blowing, unreachable prices that make it seem that quality is only for those that have the money. However, many manufacturers in today's market have noticed that quality does not always have to come at a big price, and thanks to their consideration, they're able to offer vaporizers that give users the experience they need and deserve, for a cheap price. And who doesn't love cheap stuff? I sure do!
View ALL Vaporizer Discount Codes
In today's list, we were able to recommend some of the best desktop vaporizers on the market that are set at affordable prices, so that you may find the right unit for you, without emptying your wallet. I am confident that with the information provided, and the details that we shared with you about these units, that you'll be able to find the unit you have been searching for, and enjoy a desktop vape experience like never before.
---