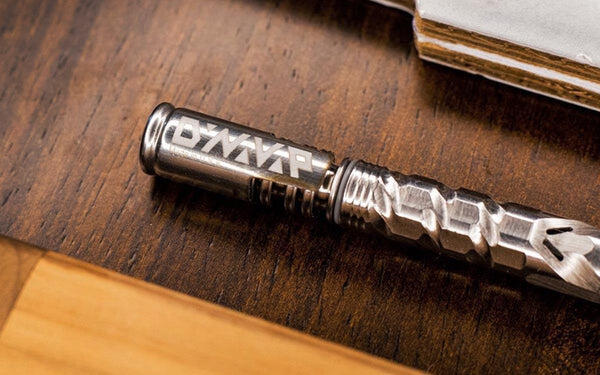 Introducing the DynaVap M
The DynaVap M from Colorado's DynaVap was released in 2018. It is 9.2 cm in length and features a stainless-steel body and mouthpiece. It's based on the original VapCap M, having the same dimensions and like all of DynaVap's VapCap products. It comes with a temperature indicating cap.
The stainless-steel body is covered in knurling, providing additional grip. The DynaVap M is compatible with a number of add-ons from the manufacturer including condensers, stems, bodies and caps so you can customize your own look and feel for this product. The company sells a cleaning kit separately.
The DynaVap M is a relatively inexpensive vaporizing pen and ultra durable. The company promises discreet shipping of its product.
DynaVap Vapor Quality
The chamber in the DynaVap M is quite small but still makes great clouds of vapor. The aim of this product is portability, simplicity and durability. What makes it really different for other vape pens is that there are no electric functions involved.
The chamber holds about 0.1 grams of material, which is not a lot. It is the perfect amount though for those that are into micro-dosing. You will still get a decent draw on this vaporizer. The draw on the DynaVap M is smoother than most combustion vaporizers.
Material Quality
The DynaVap M has a medical-grade stainless steel body and mouthpiece. You can replace the body or mouthpiece with other materials (like wood, glass and titanium) with a separate purchase. Having stainless steel on the basic model makes the vaporizer easier to clean and improves user experience.
The knurling on the body of the vaporizer was excellent in our review, providing for superior grip and handling. Overall the material quality on the basic vaporizer is excellent for the price.
Aesthetic and Feel
This is a nice-looking vaporizer, with long, sleek lines on a very small product. Its feel is pretty comfortable in the hand and it's small enough that it's comfortable to carry in a pocket.
Portability
This is a very portable little vaporizer pen. It's small and can be carried in a pocket. Other than the cleaning kit, which you can carry in a small bag or container, and a lighter you don't need any special equipment to use it.
Pick it up, pocket it and you are ready to go. In our review, the portability for this product is excellent.
Discretion
The small size of the DynaVap M makes it very discreet for use almost anywhere. It fits into the palm of most adults' hands and can be easily tucked into a pocket for carrying on the go.
However, this is still a vaporizing pipe. You need to use it with an open flame which can sometimes make it look like you are using a pipe built for other reasons. Not the most discreet when it comes right down to use.
Ease of Use
This vaporizer pen is easy to use, take apart, and clean. The clicking heat indicator in the cap makes this manual vaporizing pen really easy to use. When the chamber hits the right temperature, a clicking noise is heard and it is time to draw.
When the chamber cools, it clicks again, letting you know you will need more heat before drawing more vapor.
If you are not paying attention to the clicking sound, there is a pretty good chance of overheating and burning your material, which ruins the smooth vapor quality.
The same problem happens if you heat up the chamber again without hearing the cooling click. Still, the temperature indicator is better than having no indicator at all and will stop your material from being scorched or burned more often.
This vaporizer also heats up quicker than electronic vaporizers. Depending on the heat source you can be ready to draw down vapor in between 5 and 15 seconds, compared to 30 seconds or more for electronic models.
Finally, because of the manual nature of this pen, you do not have to be so concerned about the grind on your material. This unit can handle a very fine, fine or even medium grind without losing function or getting "gummed" up. Thorough cleaning is recommended though to prevent the build-up of resins and keep the unit in good condition.
DynaVap M Review
When I first heard about the new DynaVap M being released, I was more than excited. As a fan of DynaVap vaporizers, I am always excited to see what they have to offer.
So, although I do not consider myself a 'trend follower', I found myself instantly jumping on the DynaVap M fan-wagon, and purchased this new unit, only a few weeks after it was released.
Like with all DynaVap vaporizers, I found that this unit has a lot of impressive features to offer, but it also has its flaws.  
Checkout: - OmniVap Review
In today's review, I would like to share with you everything there is to know about DynaVap M, so you can decide if it is perfect for you or not.
Unboxing the DynaVap M
No matter if it's a first date or a vaporizer unboxing, first impressions are important. I strongly believe that first impressions can completely affect the satisfaction we get from a unit, and satisfaction is important.
With DynaVap M, I was not disappointed with the first impression.  
Checkout: - How To Use DynaVap Vaporizers?
The first thing that always adds to the 'first impression experience', is the unique, quality bag-like packaging that keeps all DynaVap vaporizer safe when shipping.
Inside of this bag-like packaging, I found a simple, yet information-packed pamphlet.  I also found my DynaVap M in a durable, compact storage tube. A great thing I found about this little tube is that it can be reused. When I wanted to take my unit somewhere, I simply put it in its little storage tube, and it was ready to go!
Lastly, I pulled my brand new DynaVap M out of its storage tube and was able to marvel at its shiny, stainless steel body. Right off the bat, I was able to notice the incredible detail that was placed into the design and manufacturing of this unit.
DynaVap M Features
So, apart from the great first impression and unboxing experience I had with the DynaVap M, there were also a handful of features that stood out to me after using this unit a few times.
Durable
One of the things that I love the most about DynaVap M, is how durable and sturdy it is. Thanks to the fact that it is made from stainless steel, and it is designed to withstand daily wear and tear, I didn't have to worry about breaking it or damaging it.
Portable
 Another great feature that makes the Dynavap M unique, is its portability. With the Dynavap M, I could finally enjoy the portable vape experience I had been looking for, for so long.
Discreet 
The Dynavap M is small, compact, and it boasts a simple design. This allowed me to comfortably use it out and about without feeling too obvious. This took the portable vape experience to another level.
Delicious Taste 
Who doesn't love great tasting vapor? I sure do! And that's exactly what the DynaVap M offers. With this unit, I was finally able to enjoy my materials to the fullest extent, without tainted taste.
Easy to Use 
I am one of those vape users that simply does not have the patience to use a complicated vaporizer. I need a unit that is easy to understand, easy to use, and easy to enjoy. Luckily, the DynaVap M was made to offer an easy, stress-free vape experience.
Easy to Maintain 
With the DynaVap M, I didn't have to constantly worry about cleaning or maintaining my unit. This gave me more time to enjoy my unit, and less to worry about tedious maintenance.
Battery-Free
The majority of the vaporizers offered on today's market are battery-powered, and have electronic parts and pieces. Another feature that makes the DynaVap M unique is the fact it has no battery, and no electronic parts.
Thanks to the battery-free aspect of this unit, I didn't have to worry about constantly recharging its battery, and could enjoy vapor on the go without having to worry about its battery power.
Smart Temperature Control 
So, although the Dynavap M is completely battery-free and has no electric parts, it still has smart temperature control. This is all thanks to one key part of the unit; the Vap Cap.
The Vap Cap is a durable cap that is triggered by heat and makes an audible clicking sound when the unit has reached the correct temperature. Depending on where I placed the flame on the cap, it also made a difference in temperature.
The Dynavap M Vap Cap made it more than easy to enjoy my favorite materials, without overheating them or combusting them. Yet another great feature that the DynaVap M boasts.
What I Didn't Like About the DynaVap M
So, although the DynaVap M has a handful of impressive features, and this unit quickly became apart of my list of favorites, it, of course, has its flaws. After all, no unit is perfect.
One of the only aspects that I don't like about the DynaVap M, is the fact that it does not produce the same amount of vapor that other popular vaporizers on today's market offer.
Don't get me wrong, with the DynaVap M, I was able to enjoy delicious taste, and get the most out of my favorite materials, but I simply wasn't able to get the same monster clouds that I have with other units.
So, for those that enjoy long vape sessions with a lot of vapor, the Dynavap M is not the perfect unit. Other monster-cloud vapes like the Mighty by Storz and Bickel or the Pax 3 by PaxLabs are more recommendable.
Who is the DynaVap M perfect for?
With the DynaVap M, I was able to have an enjoyable vape experience, and I continue to enjoy what this unit has to offer on a semi-daily basis. However, despite the fact that I've now added this unit to my list of favorites, it does not mean that it is perfect for everyone.
I found that the DynaVap M is perfect for vape lovers that enjoy simple, compact and portable units. It was designed and created to offer a discreet, portable experience, and that is exactly what it offers.
Thanks to its simplicity, it is also perfect for those that enjoy an easy-to-use unit. It doesn't have any complicated features or settings, making it perfect for beginners, or lazy vape users like myself.
The DynaVap M is definitely at the top of the list of portable, compact dry herb vaporizers, and it is set at an affordable price. So, if that is what you have been looking for in a vape, the DynaVap M should definitely be on your list of must-try vaporizers.
DYNAVAP has succeeded creating a sunning looking battery free vape. Its super portable, reliable and the Herbalize Team are all very impressed !
This trusted information is sourced from the manufacturer and our own experience with this Dynavap M vaporizer.
---