Ghost MV1 vs Pax 3 | A Clash Of Titans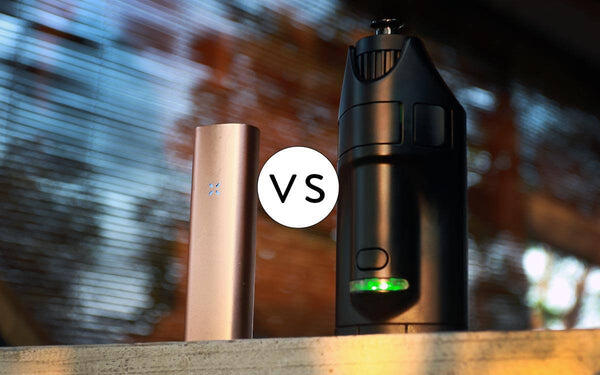 UPDATE:
As of April 2020 Ghost Vapes s is no longer in business, the Ghost mv1 is no longer being produced. 
In this review, we'll be comparing the Ghost MV1 and the PAX 3 vaporizers' features such as their look and feel, their ease of use, their battery life, and much more. 
Ghost MV1 or Pax 3
We do these kinds of reviews to try to give you a closer look at each vaporizer in hopes to help you choose the right vaporizer for you!
Vapor Quality
Many people who own this vaporizer, including some critics, have recently said that the Ghost MV1 Vaporizer is quite new and innovative in the way that it filters and cools the vapor it produces, which is by making the airflow along with two silicone pads which are far from any of the electronic portion of the vaporizer, therefore cooling the vapor down.
This makes all the vapor from this vaporizer is quite cool and smooth, and keep in mind that this way of cooling down the vapor eliminates the need of having an integrated water cooling system on the device, or anything of that sort, which is quite nice for some people.
Handpicked Related Content:
When it comes to the size of the clouds I've been getting and that I've seen other people get, I have personally been quite impressed because they have all been really big and dense.
I was actually pleasantly surprised at the clouds I got the first time I used my Ghost MV1 because I wasn't expecting them to be that big in person (can you tell I didn't do my research before buying? Silly me, I should have read one of these blogs first).
I also noticed how tasty the vapor is throughout all my sessions, and that's a big plus for me, especially when it comes to dry herb vaporizers, as they can get to be a little tasteless after a couple of draws; but not the Ghost MV1!
The PAX 3, though a smaller, more compact vaporizer is well known for its amazing vapor quality. It operates with both dry herb and your favorite concentrates, and the flavor and quality of vapor remain amazing no matter which you choose.
I honestly feel that the vapor from the PAX 3 is great compared to the earlier models, (eg. th PAX 2), and I'm glad that the PAX company decided to invest more time and effort into that aspect.
When it comes to clouds, the PAX 3 doesn't produce huge clouds, but they are definitely dense and flavorful, so for me that is a major plus. Some people remark that they wished the PAX 3 produced bigger clouds, but I feel that the cloudage is just right for me, and therefore I am always quite satisfied with the clouds that I get.
It is also well worth mentioning that, despite the PAX 3 not having a "cooling system", the vapor is never too hot for my preferences, and I am always very pleased with the temperatures of vapor that I get.
I also love that this does not depend so much on the temperatures at which I vape, because sometimes I like to vape at higher temperatures, but many vaporizers produce vapor that I find a bit too hot when I do; but the PAX 3 always produces nice vapor with good taste and at good temperatures.
Handpicked Related Content:
Look and Feel
First of all, the Ghost MV1 vaporizer has a very unique and special appearance which many people seem to love, including me! It looks very streamlined, and very beautiful thanks to its shiny or glossy finish on the outside, but it also looks functional and useable; and in addition to this, I think it looks very modern and sophisticated, and many other people seem to agree.
I'd say that the Ghost MV1 is great for people who would like a vaporizer that both looks fashionable or sophisticated and functions well at the same time, especially those who would like their vaporizer to "look the part", like me!
On aspect which really adds to this vaporizer's look is the fact that the Ghost MV1 only has one visible button in the front (its "mode" button) and that is the only piece on this vaporizer that sticks out from the rest of the piece, making it look really streamline yet still modern and cool.
Also, the Ghost MV1 is cleverly hiding its chamber and loading chamber in the front; so it is not immediately apparent, which is really nice, since this specific part of it opens into the front of the vaporizer, and if not designed properly could have looked too bulky.
So to summarize, I really like the way the Ghost MV1 Vaporizer looks, and I don't seem to be the only one. I think it looks new and innovative, and I think it has a look that sets it apart from other vaporizers, and it is definitely a vaporizer worth showing off!
I know we don't usually pick favorites, so I am speaking from a personal point of view when I say that I think the PAX 3 (and the other PAX models) are some of my favorites in terms of looks and feel.
I really love the way that the whole entire vaporizer is practically one piece, and I also love the way it feels in my hand when I carry it and use it.
Now that I've got that off my chest, I would love to point out the beautiful LED display this vaporizer has in the front; it is a pretty little flower, and I think it looks sophisticated and neutral but also quite dainty and nice. Also, it adds a bit of decoration to the otherwise very neutral piece, so I like that PAX added this little feature to the PAX 3 vaporizer.
The entire vaporizer is quite small and compact, but it is not too small, and therefore feels as high quality as it is. I don't know if it is just me, but when a vaporizer is too light, I almost feel like it is not as high quality as it may claim to be; I like there to be at least some weight to it so it feels sturdy, and the PAX 3 is the perfect weight for me.
The PAX 3 additionally comes in many different colors, which are all very nice, so everyone has a good selection from which they can choose the one which best suits their own personal preferences. Some people like matching their vaporizer units to other accessories, or to their everyday color-palette, and the PAX 3 allows you to do just that with their color selection.
Temperature Settings
The Ghost MV1, is quite sophisticated in its heating and temperature setting technology, in my opinion. This vaporizer comes with 5 preset temperatures for dry herb or flower, and 1 preset temperature for your concentrates, as it does operate with both different types of product, and the preset temperatures are good temperatures, not too high and not too low.
Also, this vaporizer has a nice range of pre-set temperatures which you can change with the GHOST app. The Ghost MV1 has a similar feature to the PAX 3 which is the fact that you can actually connect it to an app (which is specially designed to control the vaporizer) on your phone by Bluetooth, and you can alter two preset temperatures to fit your personal preferences.
All this is done in a quick and easy way, and it makes switching between different temperatures is very easy.
The PAX 3, as mentioned above, has a similar feature when it comes to being able to connect the unit to an app, except the PAX app is different from the GHOST app, in the sense that it features much more, and you can do more with it, including a few games which you can play on your vaporizer unit with the app.
From this app, you can change between 60 preset temperatures which you can either leave as they are, or adjust them in one-degree increments to better suit your personal preferences and needs in a quick and easy way.
Also, I find that the fact that the preset temperatures can be altered is a great feature because we all have different preferences when it comes to temperatures, and this makes the PAX 3 much more accessible and customizable.
Additionally, I find this to be great when vaping from concentrates, because I usually set the temperature quite high to get all the goodies from my products, and I find it easy to do so when I can just go on the app and set the exact temperature which I like.
In summary, I like that both the Ghost MV1 and the PAX 3 are easy to customize, easy to use, and easy to access when changing and altering the temperatures.
They are both pairable with their apps through Bluetooth, and that makes it really easy when I'm out in public, too; so I find that both vaporizers are both well planned, and well made in that sense. Not to mention the fact that both apps are easy to navigate and easy to use.
Battery Life
The Ghost MV1 vaporizer battery's life is really good and long, considering how amazing the power you can get from it is, and the great size of the clouds it produces.
This vaporizer lasts approximately 35 to 50 hits, which may seem like very little; but I found that the charging time (only 2 hours on average) is really quick and that I can get back to vaping in a matter of 2 hours, so it isn't any inconvenience for me whatsoever.  
The PAX 3 vaporizer also has a great battery, and many people love how long it lasts. For its size, I also believe it to be quite potent, for it lasts from 95 to 120 minutes, which translates into about 8 to 10 packed vaping sessions, and that seems to be enough for me for one day, and sometimes into the next day.
The best part about the PAX 3's battery is that it charges in around 90 minutes when using the AC adapter, so even if the battery runs out of charge, I can just connect it, chill out a little while, and before I know it the vaporizer is fully charged and ready to use again.
So I believe both vaporizers' batteries to be quite potent and quite good, and I love their performance and quality. In conclusion, I believe both vaporizers to be head to head in this one, and I don't think one is any more recommendable than the other based on battery life and/or battery quality.
Ease of Use
For this section, I don't believe it is necessary to section them off and talk about them separately, for I find them both to be super easy to use, and I don't have a problem operating either one of them!
Both the Ghost MV1 and the PAX 3 are easy to load, easy to clean, easy to charge, and easy to alter temperature-wise. Therefore, I am always very pleased with both of them, and I find them both to be great for beginners or for vaping veterans!
In conclusion, if we were basing it off of ease of use, I would have a hard time choosing a favorite or more recommendable vaporizer; for I find them both great! But I do think that PAX 3 is a little more simple in terms of loading, etc.
Of course, the Ghost MV1 is also very easy to use, but there is that extra step of having to take out the little basket where the product goes. Other than that, though, they are both ultra-easy to use, so much so that, like I said above, I would recommend them to starters or veterans.
Portability & Discreteness
When it comes to portability and discreteness, I feel that the Ghost MV1 maybe a little on the bigger side, but by no means it is bulky or hard to conceal, and I don't find its size an inconvenience in any shape or form.
Maybe I would have liked it to be a little more compact at times, but it is still very discrete and easy to use in public spaces where discreteness is of importance.
Overall, I really like the way I can just load this vaporizer and go, for it makes discreteness easy and it makes taking it anywhere great; and the fact that I don't have to worry about it being too "loud" or flashy is also really nice.
The one thing that might make it a little less discrete in a crowd of people is the fact that it produces pretty big clouds at times, which may be a little too big sometimes, but I suggest just turning the heat down and vaping on the low if you find this to be a problem.
The PAX 3 vaporizer seems to be crafted and designed especially for portability and discreteness, for it is always so easy to carry around, so easy to load and use in public, and it never gives me any trouble when I'm out and about.
I feel that when I need to load it, all I have to do is find a place where I can concentrate on my task for a few seconds, and then I'm ready to continue my adventure.
I mention this because so many vaporizers, though they claim to be portable, require a place to set it down for loading, and that can irritate me at times, for, as you know, there is not always the luxury of having a spot to set your whole kit down.
But I find the PAX 3 to be very discreet and easy to use no matter where I am, and that is always a great quality for a vaporizer. I find it to be just as easy as the Ghost MV1, so there is no favorite there, and I love the way they both perform in places where being discreet is optimal.
Conclusion, PAX 3 vs Ghost Mv1?
As you can see, thought both vaporizers look quite different, they are quite similar in vapor quality, portability and easy of use, and battery life and quality. So, for the prices, I would recommend either one, especially if you value high quality and optimal functionality like I do.
If you liked this review, there are many more for you on our blog page, and I recommend reading them before you choose a vaporizer, for you will find a lot of useful information! Also, there are many more blogs for your optimal convenience, so don't be shy and check them out!
---