How to Make Hash Oil for a Vape Pen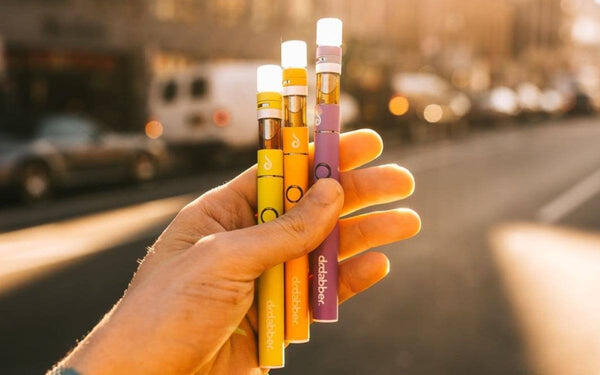 Vaping hash?
Yes, it's now possible to vape raw hash with the new Puffco Proxy Modular Portable Vaporizer. However, if you want to vape hash using a dab pen or vape cartridge pen, like the Ccell Silo.  You would fist need to convert your hash to hash oil.
We all love a good DIY project, and sometimes it's even better to do things yourself. Well, vaping THC doesn't have to be left out of your DIY projects, because you can make your own THC Vape Pen liquid in a few simple steps.
Actually, making your own vape liquid at home can have its benefits. One of these benefits is the fact that you can control exactly how much THC goes into the e-liquid, and you can choose exactly what kind of concentrates you can use.
What is Hash Oil?
Hash oil, also known as cannabis oil, is a concentrated form of the cannabis plant that has been extracted from the plant using various methods. It is usually made by combining marijuana buds or trimmings with a solvent such as butane, ethanol, or propane. The resulting liquid contains high concentrations of cannabinoids and terpenes which are responsible for the psychoactive effects of marijuana.
WE RECOMMEND: THE PROXY
🥇 Rated Hash & Concentrate Vape:
Ready to start cooking some vape oil?
In this blog we'd like to guide you through how to make every basic vape oil at home and how to add THC to it. Of course, you will need a few things before you get started, and here is the list below:
Your favourite concentrates. We recommend a liquid concentrate, crystal, or wax concentrate.
Food grade Vegetable Glycerin (VG).
Food grade Propylene Glycol (PG).
A flavouring of your choice. You can purchase flavourings specifically for vape liquids here
A bowl and a whisk (automatic or manual) to mix the ingredients.
A funnel to transfer your finished vape liquid into the bottles.
One or two bottles for the finished product.
Once you have gathered all the products you will use, the next thing you'll want to do is determine whether you will need to melt the concentrates that you will be using (wax, honeycomb, crystals, shatter, etc). If so, you will need to also gather a double boiler system or a saucepan and bowl in which you can melt the product.

How to Make Hash Oil for a Vape Pen
Now we can move on to the step-by-step tutorial on how to make your own hash oil for a vape pen at home! Below are all the steps listed, but if you have a question, please contact us at any point and we'll be more than happy to personally guide you.
First, it is important to determine what "strength" or percentage of THC you would like to have in your vape liquid. A suggested ratio is one gram of concentrate for every millilitre of e-liquid you will use.
Once you have calculated the amount of THC concentrates you would like to use, you can then measure them out. Also, if you need to melt down your concentrates, you will want to begin to do that now. Bring around 3 inches of water to a boil in a pot, then place a heat-safe bowl into the water. Then place the concentrates inside the bowl and stir constantly until it is melted.
Now you can measure the VG and PG. The trick to getting smooth vape liquid is getting the ratio VG:PG right. Many suggest a 70:30 ratio, but it really depends on your preferences, so feel free to experiment!
You will also want to measure out your flavouring. You can alter the intensity by measuring less or more flavouring. You can also read the packaging to see what amount would be best.
Once you have all your ingredients measured out and ready to mix, you can do exactly that. In a bowl, slowly mix the VG and PG together until it is well incorporated. Then, add your concentrates very slowly and mix vigorously until you can see no visible separation or pockets. Then add the flavouring to the mixture! Just note that there really is no way to over-mix it, so don't worry about that at all.
After mixing, all that's left to do is to carefully pour your e-liquid into the bottles or cartridges you chose for them, and you're done!
We also want to mention that your safety is always most important to us, so please take all the necessary safety measures before and during the process of making your DIY hash oil for vape. This could include wearing gloves and eye protection. In short, be safe!
We hope this guide was helpful, and we can't wait to hear how your DIY project went, so please let us know in the comment below!
👉 Checkout: - Top 5 Best Cartridge Pens
FAQ
Can I put hash in my vape liquid?
No, you cannot put hash directly into your vape liquid. Hash is a concentrated form of cannabis that has been extracted from the plant using a solvent such as butane or alcohol. The resulting product is much more potent than regular cannabis flower and can contain up to 80% THC. If you were to add hash directly to your vape liquid, it would likely clog the device and could potentially be dangerous.
What is the best ratio of VG to PG for vape liquid?
The best ratio of VG to PG for vape liquid will depend on your personal preference. Many people suggest a 70:30 ratio, but you can experiment with different ratios to find what works best for you. Keep in mind that higher VG ratios will produce thicker clouds and more flavor, while higher PG ratios will produce
Can you smoke hash in a pen?
No, you cannot smoke hash in a pen. Hash is a solid form of cannabis concentrate and it needs to be heated up to a certain temperature before it can be vaporized. To use hash in a vape pen, you need to make hash oil first as in our guide above. 
How do you make cartridge oil?
Making vape cartridge oil for a vape pen is a relatively simple extraction process as in our guide.  All you will need is a vape pen cartridge to store your finished product.
Is coconut oil good to vape?
Coconut oil is not recommended for vaping. Coconut oil has a high viscosity, which can clog the atomizer of a vape pen and cause it to malfunction. Additionally, coconut oil does not vaporize well and can produce an unpleasant taste when heated.
If you are looking to make hash oil for a vape pen, there are several other options available that are better suited for vaping.
What vegetable oils are safe to vape?
When it comes to vaping, the type of oil you use is very important. Not all oils are safe to vape, and some can even be dangerous. The best oils for vaping are those that have been specifically designed for this purpose.
The most popular types of oil used in vape pens are vegetable glycerin (VG) and propylene glycol (PG). VG is a thick , sweet-tasting liquid that produces large clouds of vapor. PG is a thinner liquid that produces less vapor but has a stronger flavor. Both VG and PG are considered safe for vaping when used in the proper ratios.
What does the American Lung Association say about THC Vape Oil?
The American Lung Association is strongly opposed to the use of THC vape oil, as it can be dangerous and potentially deadly. The organization warns that vaping any type of THC product can expose users to a variety of  harmful chemicals, including formaldehyde, which can cause cancer. Additionally, the American Lung Association cautions that vaping THC oil may increase the risk of developing lung damage and other respiratory illnesses. Furthermore, the organization warns that vaping THC oil can lead to addiction and other mental health issues.
Are the Benefits of Dabbing Compared to Smoking Marijuana?
Dabbing is the process of vaporizing marijuana concentrates, such as hash oil, wax, and shatter. This method of consuming marijuana has become increasingly popular in recent years due to its potency and convenience. But what are the benefits of dabbing compared to smoking marijuana?
👉 Checkout: - Is Vaping Safe?
One of the main advantages of dabbing is that it allows users to consume a much higher concentration of THC than they would be able to with regular marijuana flower. This means that users can achieve a more intense and longer-lasting high with less product. Additionally, dabbing produces a much cleaner smoke than smoking marijuana, which is beneficial for those who are sensitive to smoke or have respiratory issues. Finally, dabbing is much more discreet than smoking marijuana, as the smell produced by vaporizing concentrates is much less pungent.
How many vape pen cartridges would be equal to an ounce of weed?
The amount of vape pen cartridges that would be equal to an ounce of weed depends on the potency of the cannabis used in the cartridges. Generally, one ounce of cannabis will produce between 8-12 vape pen cartridges, depending on the strength and quality of the cannabis. For example, if you are using a high-quality strain with a THC content of 20%, then you can expect to get around 10 cartridges from an ounce of weed.
What temp is best to vape hash?
When it comes to vaping hash, the temperature you choose is important. The ideal temperature for vaporizing hash will depend on the type of hash you are using and the device you are using to vape it. Generally speaking, most people find that a temperature between 350-400°F (177-204°C) works best for vaping hash. This range allows for a smooth, flavorful experience without burning the hash while heating.
👉 Checkout: - Why do vapes have adjustable temp?
Is the liquid THC vape pen oil edible?
No, liquid THC oil for vape pens is not edible. It is specifically designed to be used in a vape pen and should not be ingested. The oil contains concentrated levels of THC, the psychoactive compound found in cannabis, which can cause adverse effects if consumed orally. Additionally, the oil may contain other ingredients that are not safe for human consumption.
Can you put any liquid into a vape?
No, you cannot put any liquid into a vape. Vape pens are designed to vaporize specific liquids that are specifically formulated for use in vaping devices.  Any other liquid or substance could damage the device or cause health risks. 
What is Butane Hash Oil?
Butane Hash Oil (BHO) is a cannabis concentrate made by using butane as a solvent to extract the cannabinoids and terpenes from the plant material. It is also known as honey oil, shatter, wax, or budder. BHO can be used in vape pens and other vaporizers to deliver a powerful dose of THC and other cannabinoids. The process of making BHO involves using a closed-loop system to extract the cannabinoids and terpenes from the plant material, which is then purged of any remaining butane.
How to store hash oil?
Hash oil is a concentrated form of cannabis that can be used in a variety of ways, including vaping. It is important to store hash oil properly in order to maintain its potency and flavor. Here are some tips for storing hash oil:
1. Store your hash oil in an airtight container. This will help keep the oil from evaporating or degrading over time. Glass jars with airtight lids are ideal for storing hash oil.
2. Store your hash oil in a cool, dark place. Heat and light can degrade the quality of the oil, so it is best to store it in a cool, dark place such as a cupboard or drawer.
3. Refrigerate your hash oil if you plan on storing it for an extended period of time. This will help preserve the oil and keep it from degrading.
4. Avoid exposing your hash oil to direct sunlight or heat sources. This can cause the oil to degrade and lose its potency.
5. Make sure your storage space is safe for kids and pets.
---