Hydrology 9 vs Pax 3 | Vaporizer Comparison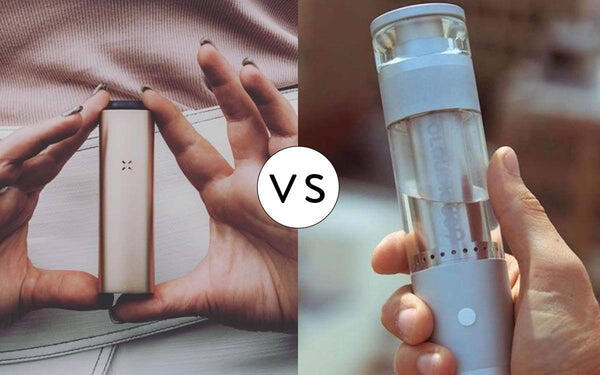 Hydrology 9 vs Pax 3
In this blog we're going to be doing a vaporizer review and comparison of the Hydrology 9 vs Pax 3 portable vaporizers. If you've taken a look at both of them previously, you'll know that they are both quite different in design and in shape. So, from the start, we'll definitely have a good amount of different points to compare.
The first point we'd like to point out is, of course, their look and material. They are both made from high-grade aluminum which is durable and also sleek looking. But the Pax 3 vaporizer is a solid design and the Hydrology 9 is more cylindrical and has a glass piece around most of the body. We'll go into what that is in a moment.
One of the largest differences between the Hydrology 9 vs Pax 3 is the water filtration and cooling system water pipe. That is why the Hydrology 9 has the glass, as you now know.
The Hydrology 9 uses a system that both filters and cools down the vapor. It is great for eliminating toxins that may be found in the vapor; and is also great for a smooth hit.
The Pax 3 vaporizer does not have a cooling system, but it still has an amazing hit to it. It is seamlessly light but potent and delivers the perfect amount of vapor.
Another point worthy of comparing is what you can vape in the Hydrology 9 vs Pax 3 vaporizers. The Hydrology 9 is strictly a dry herb vaporizer, so it only allows you to vape dry herb. It is Hydrology 9's "specialty".
But the Pax 3 allows you to vape both dry herb and concentrates such as wax. It has 2 interchangeable oven lids that allow you to change between concentrate and dry herbs at any time with only a quick change of lid. It is really convenient for those who like to change it up a little every once in a while.
One feature that is worth mentioning is that since the Hydrology 9 is an affordable dry herb vaporizer specifically, it was developed to be very convenient when it comes to stirring your herb. It has a built in the stirring tool at the bottom. All you have to do is spin it around without even opening it, and you're ready to go for another fresh hit. 
The next thing we should talk about it the mouthpieces on each portable vaporizer. The Pax 3 has interchangeable mouthpieces to fit your specific preferences. One is flatter and another is a bit longer; the other is a glass mouthpiece. Pax 3 owners love the selection and suggest changing them out depending on what you're vaping.
The Hydrology 9 comes with just one mouthpiece, made from borosilicate glass. It is quite comfortable to use and very durable. It also comes with an aluminum mouthpiece cover to keep things tidy and safe.
Following this, we should talk a bit about the heating time, heating process, and heat settings.
The Pax 3 vaporizer has truly stepped up their game when it comes to heating process and heating time. The heating time is very fast, ranging from 15 to 22 seconds max. This is fast compared, not only to the Hydrology 9, but to most vaporizers.
The Pax 3 has a little flower (illuminated with LED lights) that you press both as the power button and the temperature setting button. It is not technically a button, though; it's a touch area.
So, you will be able to see your temperature ranging from low to high in the flower petals as they in quantity and color. Users really like this feature because it is quite self-explanatory.  The heat ranges from 180 to 215 degrees Celsius.
Speaking of the Pax 3's flower petals, it is very much worth mentioning that it has hidden features like fun, interactive games! The PAXrun, PAXsays, and the PAXspin are the 3 games you can play with your Pax 3 vaporizer. For all the details on this we recommend looking at the user manual.
It's also worth mentioning that you can connect to the Pax App in order to fully control your vaping experience in a matter of strokes. It is truly an evolution to their past Pax 1 and Pax 2 devices.
As for the Hydrology 9, the power button is also the means through which you control the temperature settings. Since it is simply a circle, the temperature is indicated through the different colors displayed (also LED lights) around the button.
Simply press the power button 3 times to turn on and start heating, and then press once for every temperature. The temperature for this vaporizer ranges from 390 to 460 degrees Fahrenheit.
Handpicked Related Content:
The battery life for the Hydrology 9 vs Pax 3 is definitely set apart quite a bit. Users report being able to use the Pax 3 for around 8 to 10 vape sessions; and the Hydrology users can vape up to 15 sessions on one charge. It is a clear difference.
Is the PAX 3 better than Hydrology 9?
The final decision is completely up to you, of course. But we would like to mention that the vapor production and the vapor quality are excellent in both cases and that you will not be disappointed in either instance.
They are both very high-quality products and are both worth every single dollar of investment. They are true "fit in your pocket" companions that can be taken anywhere and everywhere and will be a great upgrade for your life.
We suggest always learning about different products that you may be buying, and thus we want to offer you all we can in these comparisons! 
Want to Learn more about the pax 3? check out our pax 3 vs crafty review. Alternatively you can check out our Hydrology 9 Review 
---