Why Storz & Bickel Vaporizers?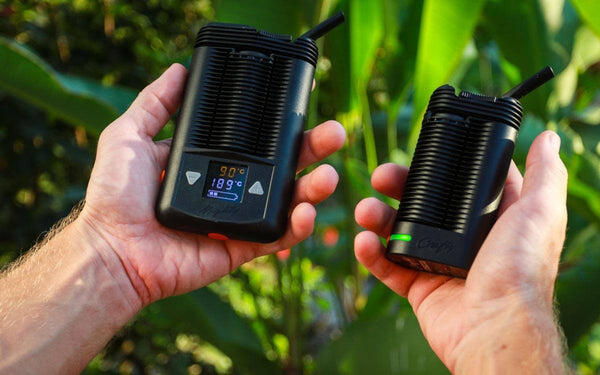 A brief history
German manufacturing standards are world renowned. Whether it is a digital camera or a luxury car, Germans are known for their excellent engineering skills and craftsmanship. These virtues typically lend its products a credible authority in the global markets. Storz & Bickel, the creators of some of the best vaporizers in the world are one such example. This company doesn't build vaporizers – it builds legends.
The hallmark of German quality is written on all its products. Storz & Bickel vaporizers are built from superior materials, and its products boast unmatched finish, state-of-the-art technology, no-nonsense design, flawless and error free operation.
Some of the salient features of their vaporizers are mentioned below -
Made in Germany stamp
Storz & Bickel vaporizers are made in Germany. None of the parts are outsourced. So, what does this mean for the consumer; a product which lasts long, and goes on to become a legend like most of the German goods? Although this leads to cost inflation, the same is quickly dissolved when one considers zero upkeep for their products. It also translates into consistent and reliable after sales service.
The Design Element
As mentioned above, German manufacturing is a breed apart. Storz & Bickel vaporizers are designed by talented engineers who spend years on design and development. Mock ups are built using 3D printers which are then tested in real time. Flaws are quickly rectified, and the same is rebuilt again. In the end it is all about vapor quality. Most of the focus is reserved on this feature.
Vapor Quality
The resultant products from Storz & Bickel stable boasts vapor which is dense, pure and devoid of by-products synonymous with vaporization. Their time tested convection heating system offers only the best vaping experience. Vapers swear by the consistency and smoothness that every session offers them.
Feature rich operation
Most of the Storz & Bickel vaporizers are feature rich. However, it does not translate into complex sets of buttons and sliding switches. In fact the learning curve is smooth and short. Most of the functions are self explanatory. With just a few settings users can experience an unmatched vaping session. For geeks and technology freaks there are enough manual settings to fiddle around with for a one of a kind vapor delivery.
Build quality
It is not only the design factor which makes German products the most sought after all over the world. The sleek and practical designs are backed by innovative materials and finish. Right from the outer shell to internal components, one can only appreciate the unbelievable cohesiveness of various parts. Moreover, these individual components are easy to detach and assemble. It makes cleaning a joyful task.
Ease of use
If initiating a vaping session with Storz & Bickel vaporizers is child's play, then sharing the same is equally fun. The Volcano vaporizer that boasts a large balloon bag can easily be enjoyed by a group of people without any pause; the portable devices from the same company such as the Crafty Plus vape make group vaping sessions a never ending bliss.
It is no secret that Storz & Bickel vaporizers can last a lifetime if proper care and maintenance is carried out at regular intervals. If the product malfunctions, which is extremely rare, the customer service team is quick to respond. Depending on the type of fault it either replaces or repairs the device.
A lengthy warranty simply translates into peace of mind. You just don't buy Storz & Bickel vaporizers you actually buy a lifelong relationship.
ISO Certification
Storz & Bickel is certified for a quality management system according to ISO 9001 and 13485 and thereby fulfils the essential requirement for manufacturing vaporizing devices.
Storz & Bickel Vaporizers
Although Storz & Bickel vaporizers are pricey in comparison to some of the other popular devices, its extra cost can easily be justified. For starters all Storz & Bickel vaporizers are built from high quality materials, boast advanced design and functional engineering, and last but not least offer consistent, smooth and uninterrupted vaping cycles. This leads to amazing experience and unadulterated satisfaction.
This is true for all its devices such as the Plenty, the handheld variant, or the desktop version called the Volcano. Even the portable options such as the Crafty or Mighty offer full blown vaping experience.
Incidentally, Storz & Bickel offers vaporizers for an array of raw ingredients such as aromatic compounds, dry herb and wax based botanicals.
Storz and Bickel Review
Storz & Bickel offers some of the most compelling vaporizers such as the Crafty, Mighty, Plenty, and Volcano. The question is do they differ in terms of design or functionality? Moreover, do they have specific purpose? Here is a quick review.
The first thing which instantly grabs the attention is its two pillar ribbed design which looks like a space age portable tool designed by NASA. However, looks can be deceiving. This is a highly portable vaporizer from the stable of Storz & Bickel. Although, its outer appearance is similar to the Mighty vaporizer, it is the only device which boasts an app control feature. The Crafty is also an inch shy in comparison to the Mighty.
Although the Crafty's default settings provide a gratifying, off the shelf vaping experience, the remote application which can be accessed through Bluetooth compatible smartphones provides advanced settings for a more personalized affair. Incidentally, the app is available for iOS and Android platforms.
The Crafty might boast a space age design but it is discreet and quite handy. The ribbed shell offers the user a firm grip on the device. It may be a little smaller than the Mighty but sports a dual heating system. Yes, the Crafty vaporizer is bestowed with a powerful, hybrid heating system that is based on convection and conduction principles.
The dual heating design along with a generous filling chamber ( 1.4 cm3 ) provides silky smooth, consistent and flavor-rich vapor catapulting the user to a different plane altogether. The vapor quality is further enhanced because of the cooling unit. On the other hand the flippable mouthpiece provides seamless delivery of pleasant and optimal flavor. Interestingly, the oven accepts herbs and liquids with an additional liquid pad – a kind of backup, offering users a mental solace.
The ingenious use of cooling unit makes sure the next drag offers the same quality vapor.
Yet another feature which sets apart the Crafty from the other vaporizers is the provision of versatile loading chamber. a Crafty vaporizer can be packed to the hilt, half-filled or quarter-filled and still deliver high quality vapor. Moreover, loading the chamber is a child's play. All in all it is a great device for beginners and experts.
Storz & Bickel Crafty vaporizer offers default settings as well as a Bluetooth controlled mobile app which allows further tweaking. It also allows users to reset / adjust default temperatures, monitor battery level, turn on/off vibration notifications, adjust LED brightness and check total usage in terms of number of hours.
The Crafty vaporizer is simple yet loaded with features which can be controlled via remote application. It boasts a single button to shuffle between various temperatures. The ribbed design makes sure the body remains cool and makes vaping sessions comfortable.
On the flip side Crafty is comparatively costlier than similar devices. It also suffers from short battery life which is suitably compensated through charge while you vape feature. The mouthpiece lacks sensitivity which simply means it may not reset after a short draw.
The Verdict
Crafty is an amazing product that boasts several innovative features and provides excellent vapor quality.
The Mighty vaporizer from Storz and Bickel is the answer to the growing demand for a vaping device which is smaller than the desktop variant but still portable enough to carry it around; at least for home use. The Mighty vaporizer offers intense vapor that is sure to satisfy the needs of both beginner and regular users. The draws are seamless, and the flavor consistent. In spite of its average size, around 13cms high and 7.5cms broad it offers an impressive high.
Unlike the Crafty, this vaporizer has a killer battery. Two powerful lithium ion batteries extend the vaporizing pleasure to unbelievable levels – 9 sessions per full charge. Now, isn't that something? The Mighty performs even when plugged in. It can also be used with completely drained batteries. The device seems loaded with surprises - reaching 178°C under 90 seconds flat is one of those.
Vaporizers' sporting convection heating systems typically offer small draws, as the vapor generation is limited. However, just like the Crafty, this one also boasts a hybrid heating system. This simply means potent vapor generation or bigger clouds as the enthusiasts term it and also quicker vaporization. Because the Mighty is designed with a bigger cooling unit the redraw time is even less than the Crafty.
Operating the Mighty is really simple. A couple of buttons with standard + and – symbols on them offer a quick way to increase or decrease the temperature, to a degree, without any hassle. The prominent LED display makes sure there are no chances of error. So, the next time you want to tweak the temperature, simply click the right button and you are done.
The Mighty also sports a unique feature of low combustion quotient. This is achieved through optimized roasting of dry herbs. Although it is larger than many portable devices, its excellent battery life somewhat dissolves that feeling, and its excellent vapor quality simply makes it one of the preferred vaporizers.
The Verdict
The Mighty from Storz and Bickel is a little expensive, provides a combustion free vaping experience, but somewhat loses out on technical fronts such as short shut-off period, changing the device to Fahrenheit every time, and reset after short draw tends to be quirky.
One of the common features of Storz & Bickel vaporizers is the use of ribbed body. Plenty vaporizer also boasts this unique, inspiring design which elevates the confidence in their products. Moreover, the Plenty also sports a revolutionary form factor, to the point that it looks like a device meant to be used in space.
This electromechanical device features a powerful heating system, for state of the art cooling and an extra large filling chamber. It results in a vaping session that is literally "Sensational".
The size of the Plenty is another design deviation. It falls between a desktop vaporizer like the Volcano and portable variant like the Crafty. The only flaw is its plug-in heating feature. It tends to force the user to stay close to the electric point. The portability factor takes a lot of bashing. However, unlike other large vaporizers this one is easy to handle within a limited space, and it is a joy to load herbs or clean the device.
It is also easy to carry due to its flat design.
However, the Plenty has plenty to offer in terms of functionality. This vaporizer is based on the principle of convective heating which means low combustion and high efficiency quotient. The large, double chamber for loading dry herbs and long flexible steel conduit provide a cool vapor because it has plenty of time and distance to relieve itself from warmth simply translates into an extremely gratifying vaping session. Moreover, the loading chamber need not be stuffed with botanicals to fetch that optimum vapor quality. Now, isn't that a great way to save money?
The current vaporizing temperature is displayed in a distinct manner while the bimetallic regulator ensures safe operation. Some of its other intriguing features include independent temperature control and automatic shut off.
Precise temperature control allows users to define their own preference, and it also sports a wide range of settings – between 130°C to 202°C. Usually, desktop vaporizers, especially those that are plug-in in nature tend to offer mildly dense vapor, but the Plenty is a breed apart. Experience flavor-rich, fuller vapor for a satisfying session, similar to a portable, battery operated device.
The Verdict
The Plenty is an amazing product from Storz & Bickel in terms of design. The long, flexible steel conduit with a mouth piece attached at the top makes its extremely handy and hygienic. Overall, Plenty vaporizer is a little pricey as compared to other vaporizers from the same class, but worth that extra price.
The company website declares that the Volcano is a desktop vaporizer without compromises. It is not a tall claim. The fact is the Volcano is legendary in its class. And one of the fundamental reasons for its popularity is the easy valve balloon which allows users to carry the vaporized raw ingredient anywhere within a limited space. This also makes it device independent.
Desktop vaporizers demand a completely different set of engineering principles and so also the materials that are used to build them. Storz & Bickel uses medical grade plastics which translate into bacteria and fungal free inhalation. The vapor is pure, potent and possesses the right amount of flavor. Moreover its convective heating technology is the best in its class providing nil combustion.
The vapor in the Volcano is typically collected in a bag called an Easy Valve Balloon which incidentally comes in two sizes; standard and XL. Inhaling from the bag is effortless as it offers drag-free vaping experience. The bag, as mentioned above, is made from high grade plastic that offers odour-free and hygienic vapor. Moreover, the balloon is also heat proof which means handling the same is hassle free. Low level of condensation translates into higher vapor quotient – which is what a good vaporizer offers.
The cone shape of the Volcano is what differentiates it from other desktop vaporizers. The term Volcano is derived from its distinct form factor. On the engineering front, the Volcano boasts minimum functional parts and therefore reduces maintenance cost. Incidentally, the cone is made from high grade aluminium material which gives it a premium appearance.
The vapor delivery in the Volcano begins with the heater and subsequently rises and passes through a screen with air holes and then further up. This potent, pure and flavored vapor can then be collected via Easy Valve or Solid Valve. While the easy valve needs to be replaced after every use, the solid valve can be used for a long time.
Checkout: - Volcano Gold Review
Incidentally, the Volcano is available in Classic and Digital versions. As the name suggests the latter features a large LCD screen with temperature readout. Precise temperature control can be attained through two buttons sporting + and – symbols. Volcano Digital has a minimum temperature of 40°C while Volcano Classic sports a minimum temperature of 130°C.
The Verdict
The Volcano is a great device for those who'd like to quit smoking and also for those who need a medical grade vaporizer for therapeutic reasons.
The trusted information in this article is sourced from the manufacturer and our own experience with Storz and Bickel vaporizers.
---